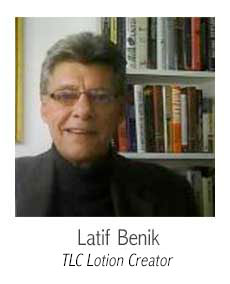 A Natural and Healthy Way to Relieve Arthritis Pain.
My name is Latif Benik. A few years back, I was diagnosed with arthritis in my neck, shoulders and hands.
I tried everything to get relief, but the best result I could achieve was a combination of physical therapy and pain pills.
But I wanted a solution that would not cause me to become dependent on pain pills.
Pain Relief Was My Goal.
After experimenting with different solutions, I came up with a natural lotion infused with plant extracts that dramatically reduced my arthritis pain.
I call this amazing pain relief discovery TLC Lotion, and it has helped me so much, I feel I must share it with others who are suffering from the pain and debilitation of arthritis.